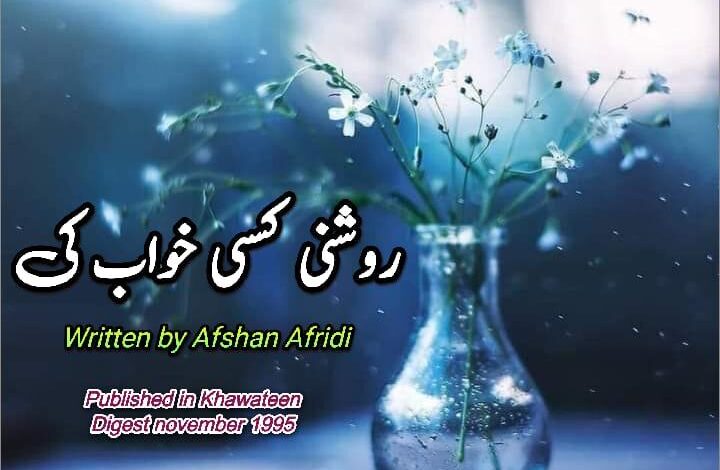 Roshni Kisi Khawab Ki written by Afshan Afridi. 
زندگی کے سیدھے سادے راستے پر چلتے چلتے اچانک مل جانے والے سمعان گردیزی نے آرش حسن کواپنا رستہ بھلا دیا تھا۔ حقیقت کے دبیز اندھیرے میں اک حسین خواب کی روشنی پھیلنا چاہتی تھی مگر وہ اپنوں کے ہاتھوں کیے گئے ایک اندھے فیصلے کی صلیب اپنے کندھوں پر اٹھانے کی سزاوار تھی
Afshan Afridi is a famous Digest writer and wrote many Remarkable and Memorable Urdu Novels in the decade of early 2000 and still she's writing.We are here to publish some of her Novels on Novels Hub.This is a new platform for new or well-known Urdu writers to show their abilities in different genres of Urdu Adab.
السلام علیکم ورحمت اللہ
میں نے اپنے قلمی سفر کی ابتدا کرن ڈائجسٹ سے کی اور اس سفر کی آگے کی منازل طے کرنے میں چاند پبلیکیشز کے تعاون کومیں کبھی فراموش نہیں کرسکتی۔ خواتین شعاع اور کرن کے ساتھ ساتھ پاکیزہ ڈائجسٹ کے لیے بھی لکھتی رہی۔
میری والدہ اور خالہ بہت شوق سے لٹریچر پڑھا کرتی تھیں۔ ماموں نے بھی ایک چھوٹی سی لائبریری بنا رکھی تھی۔اور والد صاحب بھی اپنے کالج کے زمانے میں بزم طلبہ کے ادبی ونگ کا حصہ رہے تھے۔الحمد للہ مجھے بچپن سے ہی ایسا ماحول اور کتب میسر آئیں جن کی وجہ سے مجھے لکھنے کا شعور بیدار ہوا۔ گریڈ ۴میں مجھے تصویریں بنانے کا بڑا شوق تھا، لہٰذا گرمیوں کی چھٹیوں میں کہانیاں لکھ کر ان کی تصویریں بنایا کرتی تھی۔تو یوں لکھنے کا یہ سفر شروع ہوا۔ماما اور نانی اماں کے گھرکی کوئی کتاب میں نہ چھوڑی جسے پڑھ نہ ڈالا ہو۔
میں نے اپنی پہلی فکشن تحریر گریڈ ۸میں لکھی۔جسے میری دوستوں نے بہت پسند کیا تو اسے شائع کرانے کاارادہ کیا۔ جب میں پہلی بار اپنے والد صاحب کے ساتھ چاند پبلیکیشنز کے دفتر آئی تو وہاں کے سربراہان مجھے دیکھ کر حیران رہ گئے  تھے ۔ اسکول کی تیرہ چودہ سالہ طالبہ کے لیے یہ بہت بڑی بات تھی کہ نہ صرف میری تحریر کوپڑھنے کا وعدہ کیا گیا بلکہ میری بہت حوصلہ افزائی کی گئی۔اور چند ماہ کی انتظار کے بعد میرا وہ پہلا ناول دو اقساط میں شائع کیا گیا۔ اور یوں میرا قلمی سفر شروع ہوا۔کرن کے بعد خواتین اور شعاع کے ساتھ ساتھ پاکیزہ کے لیے بھی لکھنا شروع کیا ۔
پی ای سی ایچ ایس کالج میں، میں نے بریل (نابینا افراد کا رسم الخط) سیکھی اور ایشین بلائنڈ یونین کے لیے رضاکارانہ کتابیں بریل میں ٹرانسکب کرنے کے دوران مزیدلٹریچر زیرمطالعہ آیا۔ جس نے لکھنے کے شوق کو مزید بڑھایا۔
اس قلمی سفر کے دوران اکنامکس اور اسلامک اسٹڈیز میں بیچلرز کیا اور ابھی قرآن کا ایک جز ہی حفظ کیا تھا کہ شادی ہو کر جرمنی آگئی۔شادی کے بعد اللہ نے تین بچوں سے نوازا۔ بچوں کی تربیت کے دوران میرا رجحان مزید دینی تعلیم کے حصول کی طرف چلا گیاتو اللہ کی مدد سے قرآن کی تفسیر اور عربی گرامر کی تعلیم حاصل کرنے کے دوران ہی میں قرآن و حدیث کی تدریس سے جڑ گئی۔چند سالوں بعد اللہ کی توفیق سے ہمبرگ میں اپنا اسلامک اسکول بنایا اور اس میں مصروف ہوگئی۔قرآنی تعلیم نے مجھے اپنی لکھنے کی صلاحیت کو ایک اور پہلو یعنی ذہن سازی اور تدریس کے لیے استعمال کرنے کی سوچ عطا کی۔ اور میں نے جرمنی میں مختلف محافل اور اپنے اسلامک اسکول میں درس و بیان بھی کرنا شروع کیے۔تاہم اس سب کے دوران بھی لکھنا جاری رہا اورالحمد للہ اب تک ہے۔
آخر میں دعا ہے کہ اللہ میرے تمام قارئین کو صحت و ایمان والی زندگی عطا فرمائے اور ہم سب لکھنے والوں کو اپنی اس قلمی صلاحیت کا بہترین استعمال کرنے کی حکمت عطا کرے جو محض ہماری دنیا ہی نہیں بلکہ آخرت کی بھی کامیابی کا سبب بن سکے۔آمین
…٭…٭…٭…٭…
Regards
Novels Hub
Complete Novel Roshni Kisi Khawab Ki Online Reading
To Read More Novels by Writer Afshan Afridi
NOTE: We are mentioning down the Link of Writer AFSHAN AFRIDI'S Facebook Account you all can follow and Support her.